II OM SHRI GANESHAYA NAMAHA II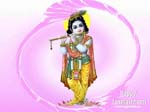 II OM SRI KRISHNAAYA NAMAHA II
Lord Krishna is present in this Blog. Worship Him by reading two slokas from 'Srimad Bhagavad Gita' updated here everyday, in 5 min. daily or in your free time. Make prayers and get your wishes fulfilled soon.
'Srimad Bhagavad Gita' Chapter 02 :
Sankhya Yoga
29.Aashcharyavat pashyati kashchid enam
Aashcharyavad vadati tathaiva chaanyah;
Aashcharyavacchainam anyah shrinoti
Shrutwaapyenam veda na chaiva kashchit.
One sees This (the Self) as a wonder; another speaks of It as a wonder; another hears of It as a wonder; yet, having heard, none understands It at all.
30.Dehee nityam avadhyo'yam dehe sarvasya bhaarata;
Tasmaat sarvaani bhootaani na twam shochitum arhasi.
This, the Indweller in the body of everyone, is always indestructible, O Arjuna! Therefore, thou shouldst not grieve for any creature.
==========
Start reading 'Srimad Bhagavad Gita' as said in this blog. By doing this you become the dearest devotee of Lord Krishna. HE fulfills all your wishes and makes you happy and peaceful soon, within the time rightly decided by HIM. HE is everywhere and everything. Happiness or sorrow, everything happens according to HIS wish. Sins are the reason for your suffering and take you to Hell in next life. HE clears all your sins and sufferings and you go to Heaven in the next life. HE is there to support you in your every life till you get salvation by HIS grace only. Hence, just read 'Gita' and become HIS devotees, rest HE will take care.
II OM SRI KRISHNAARPANAMASTHU II